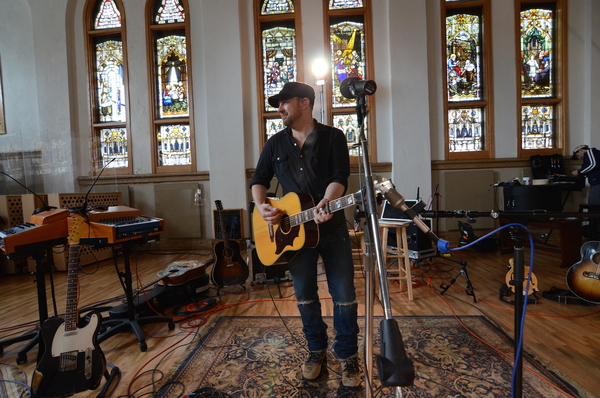 Apr 14
An Important Announcement About Music Mondays.
On April 15, 2013 -- one year ago -- I launched a series called Music Mondays.
The first song I posted was "Call It Even," written in 1995, when I was in my first band, Billy Pilgrim. I posted a blog about what inspired the lyrics, then added the hand-written page from my journal, and a copy of the song.
It felt like I opened the door to my studio and invited you all inside to watch me work. I think that day might also have been the first time a lot of you heard my voice, front and center, coming through your speakers.
It made me a little nervous -- but it was also one of the most exciting things I've ever done.
I started Music Mondays because I have written close to 300 songs in the past two years, and even though only a handful of them will ever find their way onto an album, I believe every one of them deserves a voice. I started it because I am on a journey, one that has taken me to Nashville and Florida and Stockholm and London and California in search of new co-writers, friends, and teachers, and I want to share that journey with you.
I started it because songwriting is like breathing for me -- I wake up and do it every day -- and I can't hold it inside.
One year later, I look back at the way all of you have embraced these songs, commented on the blog posts, tweeted me or posted in the forum about what they mean to you, and I am humbled. Thank you.
Now it is time to start something new.
I am excited -- and a little nervous -- to announce that beginning this week, I am officially putting the finishing touches on my debut solo album.
From 300 songs, I have chosen 15; the next step is to get that down to 12. The songs need mixing and mastering; there are new sounds to be added and maybe new vocals to be sung. And then there is everything that goes along with an album release: I need to choose a title, and a single, and take new photos, and design the album art, and figure out the sequencing, and introduce the music to my friends at radio, and play more live shows.
And then someday, in the not-so-distant future, you will be able to hold these songs in your hands, carry them around, blast them in your car and in your headphones, and even on your turntable.
Because of all the work that is about to start happening in my world, Music Mondays need to evolve. Instead of a weekly track, maybe now it will be a photo, or a video, or a throwback to Billy Pilgrim or Sugarland, or maybe a demo of something I just wrote because it was fun.
No matter what, I promise to do my best to have something musical and exciting for you every week. And I promise to always prop open my studio door, and let you come inside.
I can't wait.
I hope you are as excited as I am.
UPDATE 4/29/14: Today we announced that my album will be released through Streamsound Records, with my long-time friend and creative partner Byron Gallimore at the executive producing helm. LOTS more information to come... but I wanted to keep you updated...
UPDATE 1/28/15: Today we announced that the release date for Southern Gravity will be April 7, 2015! Here is a note I wrote for you about the album: http://kristianbush.com/news/239153
Love
Kristian Bush
Atlanta GA
USA
Earth
Need more music for your Monday? Click here for the full MM library.
KB IS ON THE ROAD IN 2014! Click here to check out the dates announced so far, and come see us in your town!
Got something to say? We want to hear about it! Click here to visit the KB Forum!
Want news like this delivered straight to your inbox? Join KB's mailing list here.
"Love or Money" is now available on iTunes and wherever digital music is sold! Learn more here.