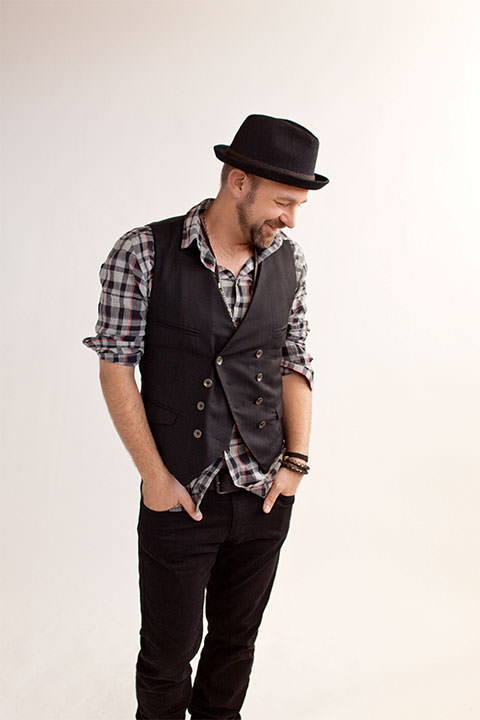 Kristian Bush has been making the impossible happen his whole life. Three times he's conjured his musical dreams into reality – once with his rock duo Billy Pilgrim, once with his Grammy-winning country duo Sugarland, and most recently as a solo artist.
But now Kristian is undergoing yet another reinvention, and chasing another horizon.
That horizon includes an upcoming album and Kristian's new single, "Sing Along" – plus a brand new record label, his first-ever publishing deal, and a foray into musical theater. Now, the hope, determination and contagious compassion he used to provide behind the scenes moves front-and-center for good – and a true country original comes into his own.
"I feel like a new artist," he says about the journey ahead. "And it's exciting."
Kristian is no newcomer, though. Sugarland cemented his status as a captivating stage presence and multi-platinum selling songwriter, earning him fans and friends around the world. But in many ways Kristian's solo debut "Trailer Hitch" in 2014 made this new chapter possible. Built on the strength of grooving melodies, catchy hooks and feel-good wisdom, the song was a runaway success at country radio – the first taste of him as a distinct artist.
"'Trailer Hitch' really helped validate what I sound like as a singer," Kristian says of his solo debut. "But also my belief system of putting a message into my music. That's always been my game. Whether it was Sugarland or Billy Pilgrim or whatever, my wish was that it gets stuck in your head somehow, and then you can detangle the message as time goes by."
Now signed to Wheelhouse Records as a triple-threat artist, songwriter and producer, Kristian will have plenty of opportunity to spread his message, and his future looks bright.
He's producing rising star Lindsey Ell's new project; he stepped into the unknown to write original tunes for the new musical, Troubadour, opening January 25 at Atlanta's Alliance Theater; and on top of "Sing Along," he's written hundreds of meaningful new country songs.
Brimming with positivity, Kristian's new vision for country is unlike anything coming from Music Row – and that's because it's not coming from Music Row. As always, he lives and works in his adopted home of Atlanta, keeping his mind focused on what matters most.
"I think to understand what's different [about my music] I would have to really know how they do it in Nashville," he says with a laugh. "My approach comes from 'How do I feel?' and 'How does it make me feel?' I make music because I want to hear it, and I'm not one of those people who makes something and then never listens to it again. I obsessively go back."
"Sing Along" is one of those songs that keeps pulling Kristian back.
Co-written with guitarist/producer Andrew DeRoberts, the bouncy tune is centered on a breakup, but its big-picture view is more about grace than casting blame. Nationally syndicated morning show host Bobby Bones played a leaked version on his popular morning show, and fans were so captivated that "Sing Along" was released right away – weeks ahead of schedule.
Proudly upbeat and featuring rocked-up hints of electronic dance, "Sing Along" features yet another Kristian-penned melody that just can't be forgotten, and a profound message that's hidden in plain sight. But the most striking thing about it something else entirely – Kristian's voice, finally set free.
"I love that I haven't heard my voice this strong until now," he says. "I don't know what it is, but I can step up and sing this song and it feels like I'm four times taller."
"Sing Along" is the beginning of something special. Kristian can already feel it, and he should know. He's been in this position before, with big dreams bursting from his heart and long odds against making them come true – but that's exactly where he shines the brightest.
"It was impossible the first time I did it [with Billy Pilgrim]," he explains. "It was impossible the second time I did it [with Sugarland]. And now the third or fourth time? I'm starting to feel like it's a calling. I feel like it's a responsibility for me to wave a flag that says 'Never Give Up.'"
---
Kristian Bush, one half of platinum-selling country duo Sugarland, has been leaving his mark on music for more than two decades. His debut solo album, Southern Gravity, was released in April 2015, featuring the Top 20 single "Trailer Hitch." The album received rave reviews from Rolling Stone, The Boston Globe, and the Sydney Morning Herald, among many others. Country Weekly called it the "feel-good album of the year." Recently signed to Wheelhouse Records/BBR, his newest single, "Sing Along," is at radio now.
Kristian is a Grammy Award-winning singer, songwriter, producer and multi-instrumentalist who started his career with folk rock duo Billy Pilgrim in the early '90s. He and partner Andrew Hyra released a much-lauded pair of albums for Atlantic Records (their 1994 self-titled debut and 1995's Bloom), earning multiple Top 5 singles on the AAA charts, rotation on VH1, and a reputation as dynamic live performers who traveled from the tiny stage of Eddie's Attic in Decatur, Georgia, to a worldwide tour supporting Melissa Etheridge in 1995.
Kristian founded Sugarland in 2002; in 2004, he and singer Jennifer Nettles exploded onto the music scene, surpassing sales of over 22 million albums worldwide, achieving five No. 1 singles and winning numerous awards, including trophies from the Grammys, AMAs, ACM Awards, CMT Music Awards and CMA Awards. In October of 2012, they were inducted into the Georgia Music Hall of Fame.
To date, Kristian has won six BMI Awards for his songwriting abilities, and in 2011 founded the music publishing company and songwriting collective Songs of the Architect. He made his solo debut in 2013 at the inaugural C2C: Country to Country Festival, held at the O2 Arena in London. His first release as a solo act, "Love or Money," debuted in the UK and Europe the following week. The song is now featured in the hit mobile game My Singing Monsters, where Bush lends his voice to the green furry "Shugabush."
In 2016, Kristian wrote and performed "Forever Now (Say Yes)," the theme song for the hit TLC reality series Say Yes To The Dress. And in 2017, his songs anchored the world-premiere musical Troubadour, which he co-wrote with acclaimed playwright Janece Shaffer. The musical debuted at the Alliance Theatre in Atlanta, starring Radney Foster and Zach Seabaugh, and the Atlanta Journal-Constitution called Kristian's songs "magnificent," with a "power that cannot be discounted." Most recently, Kristian teamed with BBR Music Group labelmate Lindsay Ell to produce her debut EP, Worth the Wait, winning raves across the board for his unique process that led Ell to find her voice.
Kristian sits on the board of the Atlanta Chapter of the National Academy of Recording Arts and Sciences, is a proud Service Ambassador for Points of Light, a frequent performer on the Grand Ole Opry, and regularly appears as part of the CMA Songwriters Series in cities around the world. He is a graduate of Emory University in Atlanta, where he still resides.